Vogue asks Brian Clarke to pose a series of questions to their readers.  The answers are in the readers mind only.
See below for the questions in English.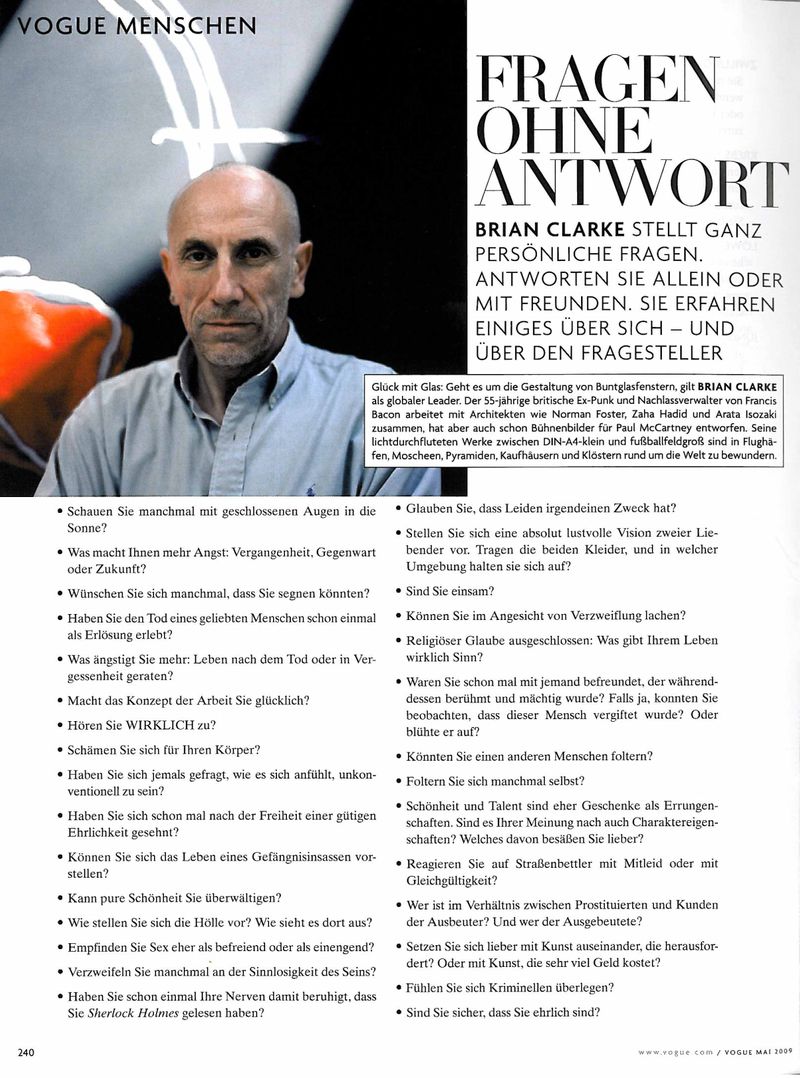 The questions in English:
What is more terrifying to you – Life after Death or oblivion?
Has the death of any body you love ever come as a relief?
Do you ever turn your face into the sunlight and close your eyes?
What frightens you more – The Past, The Present or The Future?
Do you ever wish you could bless?
Are you ashamed of your body?
Does the concept of work make you happy?
Do you really listen?
Have you ever wondered what it might be like to be unconventional?
Have you ever longed for the freedom of benign honesty?
Can you imagine the life of a prisoner?
Are you overwhelmed by beauty?
How do you imagine Hell?  Can you picture it?
Does sex generally make you feel free or trapped?
Assuming no religious faith what most guarantees the meaningfulness of life for you?
Do you despair at the futility of being?
Have you ever calmed you nerves by reading Sherlock Holmes?
Do you believe there might be some kind purpose in suffering?
When you imagine the most lustful vision of lovers are they wearing any clothes at all, in what environment do you picture them?
Are you lonely?
Can you laugh in the face of despair?
Have you ever known a person well who becomes in the period of your friendship, powerful and famous?  If so, have you seen them poisoned and corrupted or blossom into greatness?
Beauty and talent are gifts rather than achievements are they equal characteristics?  Which would you rather have?
Do street beggars provoke pity or indignance in you?
Do you think that one can achieve wisdom through hedonism?
Could you torture another human being?­­
Do you torture yourself?
Do you think yourself superior to criminals?
In the relationship between a prostitute and a client who do you think is used?
Are you more moved by art  that challenges you or by art that is worth a lot of money?
Are you are sure you are being honest?